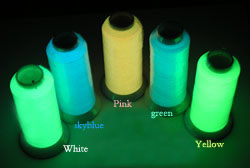 Glow embroider thread is a innovate for regular thread, which available glow in the dark more than 12 hours.
Material : Nylon
Size: 120 D/2
Length:  3000 ~ 4000 m/ cone
Packing: 110 gram/cone.
Glow time: 6~10 hours.
Color: white,  aqua,  yellow-green
Contact us for orders more than 50lbs for shipping rates or international orders.  We drop ship anywhere in the world.